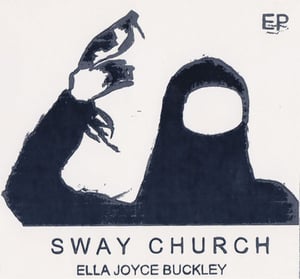 $

10.00
A small body of DIY recordings (2009 - 2011) from the Brooklyn-based South African songwriter and multi-instrumentalist, to tide you over until she finishes work on her upcoming full-length (out now! Blood Finds No Sea)
Tracklisting:
1.Terroir Knot
2. Chambird
3. When He Arrived
4. Mazarine
5. Bloodsilk Rivermilk
6. Sway Church
MAIL & GUARDIAN REVIEW
Whirlpool of sound
20 Jun 2011 12:10 - Lloyd Gedye
Ella Joyce Buckley: Sway Church (Jaunted Haunts)
"It has been more than three years since we last heard from Ella Joyce Buckley with her debut album, For Astrea. During that time she moved to New York, but the songwriter returned to her native Cape Town recently to oversee the release of her new EP, Sway Church, and to begin recording with producer Dirk Hugo for her as yet untitled second full-length album. It is understood that it is being mixed and could be released within three or four months.
But let's not get ahead of ourselves. Sway Church, which has six new tracks, is a departure from her previous effort—it is darker in tone and plays with the sparseness and density of sound. The songs, which are largely drenched in reverb, can feel intimate one moment (as though Buckley is whispering sweet nothings into your ear) and then launch into wonderful flights of fancy the next. The opening track, Terroir Knot, at times appears to be sucking you into its whirlpool of sound, dragging you under until you are submerged in all its glory.
Chambird more closely resembles the work on For Astrea and fans of Kate Bush and Joanna Newsome will find much to love.
When He Arrived sees Buckley layering looped vocals over a gentle groove, spinning a wonderful web to entrap you for its six-minute duration. Mazarine is another reverb-drenched beauty, and the title track is based on a gentle electronic beat, with Buckley's voice appearing both seductive and menacing at the same time. Sway Church may be a stopgap release until her second full-length album hits the shelves later this year but in this form Buckley is one of the finest South African musicians releasing records in 2011."
- Lloyd Gedye